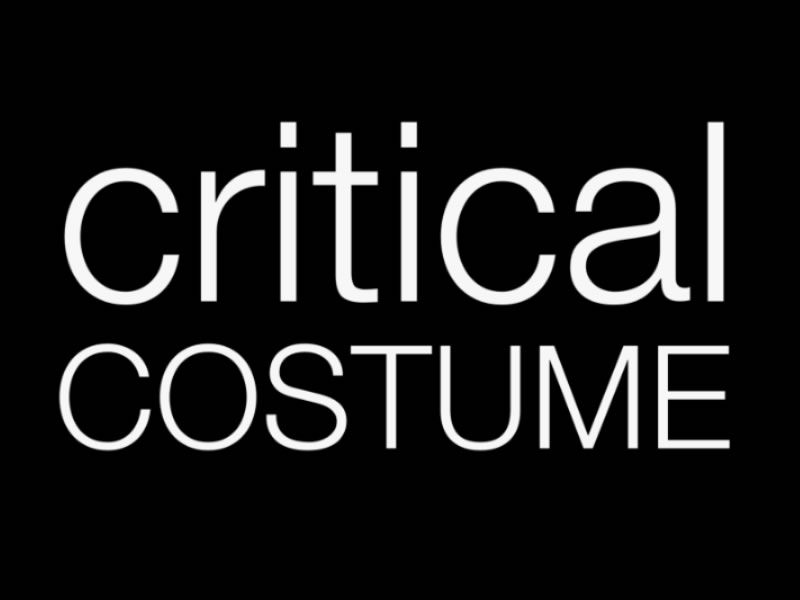 Critical Costume 2018 An International Conference and Exhibition: 12th – 14th September 2018
12th – 14th September 2018
University of Surrey, UK
 Theme: 'Costume Ethics'
Deadline: 16th May 2018
There is something risky about costume. Acts of costuming can render bodies as highly visible, yet discourses of 'the body' all too often assign this distinctive agency to acting or systems of social aesthetics that collapse 'self' into appearance. The risky act of costuming is magnified when considering how costume performs notions of gender, race, national and cultural identity as well as how costume authorship is attributed. From conception to reception, costume has the potential to complicate political, moral, and aesthetic systems that flatten costumes into bodies and bodies into costumes. Whether acts of cultural appropriation or the apparent invisibility of costume designers and makers within the analysis of bodily art practices, the intersection between ethical relativism and the potential for costume to claim bodies – to (dis)empower, enact politics, or be risky – exposes the critical territory and social paradoxes that acts of costuming negotiate.
For Critical Costume 2018, we ask what are the principal opportunities and challenges that the provocation(s) of 'costume ethics' poses to designers, artists, and scholars. We approach the peculiarity of costume as a liminal method of appearance that is consciously designed and performed. Yet, this same transitional state can partition costume as unstable (when compared to normative orders of bodily representation) that highlights an innate 'risk' inherent within the design, construction and wearing of costume. Consequently, we invite contributions that debate the permissibility, authorship, or risk of costume and costuming.
Accepted contributions will be considered for publication following the model established at previous Critical Costume events: for examples see criticalcostume.com/publications.html
Potential topics include (but are not restricted to):
Costume censorship: ownership and the collaborative processes of costume design; makers of costume and systems of recognition; anti-theatricality and costume, interdisciplinarity and the (in)visibility of costume.
Risky costumes: protesting through costume; danger and costuming; social norms and costumed-participation; violence and costume; live art and costuming; the agency of costume in performance on stage, screen and street.
Costuming as an (un)ethical act: Ethical models of costume construction and design; sustainability and costume; cultural appropriation and costuming; representation and costumed-bodies; morality and costume.
Queering costume: Queering as a critical methodology for costume theory; Queer theory and acts of costuming; queering bodies, costuming and gender(ed) performances; representations of queer bodies in performance and media; Queer practices of costuming; Queer cultures of costume.
Established in 2013, Critical Costume is an international research networked focused on the promotion of new costume scholarship and practice (see our website for details:  criticalcostume.com). At its heart is a commitment to costume as an interdisciplinary field of study that includes practitioners and academics from film and television, theatre and performance, dance and anthropology, along with cultural studies and fashion. In this regard, costume is approached as an inclusive umbrella for investigating contemporary and historical bodies caught in the act of appearance.
Submission Formats:
Critical Costume 2018 at the University of Surrey, UK, is a conference and exhibition that includes the following distinct presentation formats:
an exhibition of artistic work and practice research;
a conference comprised of academic presentations on current research;
Flash Talks – short presentations by artists;
Performances and installations;
film and media screenings.
In that regard, we invite all interested parties to submit their proposals stating which presentation format you wish to be considered for:
20min paper presentation (title and 200-word abstract)
Flash Talk presentations (title and 200-word summary)
Exhibition or Installation work – physical or mediated object (title and 200-word description)
Note: We welcome applications to present in more than one format. The event language is English. All delegates attending this 3 day event in person will need to a pay registration fee, but significant discounts will be available for postgraduate researchers and independent artists. There will also be a 1 day registration option available.
How to submit:
Please send your title, 200 word abstract with 50 word biography for the 16th May 2018 to: cc2018@criticalcostume.com
Any questions or queries, please contact Rachel Hann as lead convenor for CC2018 at r.hann@gsa.surrey.ac.uk
Critical Costume was founded in 2013 by Dr. Rachel Hann and Sidsel Bech by convening CC2013 at Edge Hill University. Prof. Sofia Pantouvaki convened CC2015at Aalto University two years later. All three are recognized as Founding Convenors of Critical Costume.