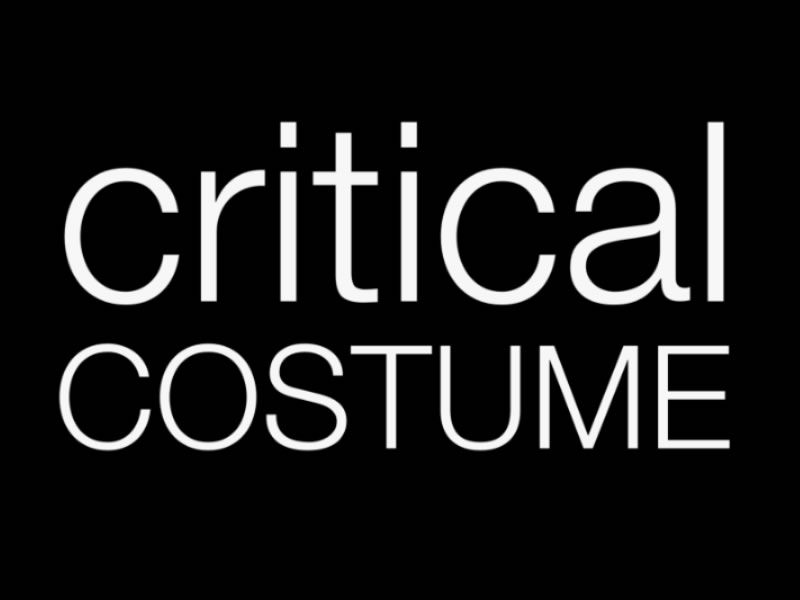 Critical Costume 2022, An International Conference and Exhibition: 17-20 November 2022
Critical Costume 2022 (CC2022) is the fifth event within the Critical Costume research platform. It will consist of an online conference and a virtual exhibition. Conference presentations will be delivered live, and not pre-recorded.
Established in 2013, Critical Costume is an international research network focused on the promotion of new costume scholarship and practice (see: https://www.criticalcostume.com/).
The network is led by the following partners:
Queensland University of Technology and National Institute Dramatic Arts (Australia)

Aalto University (Finland)

Grafias da Cena Brasil Association (Brazil)
Theme: Connections
How does costume create connections?
Costumes build connections and are built through connections – to other artists, between bodies and materials, as well as with audiences and the world around us.
With this theme Critical Costume 2022 aims to unpack the diverse ways in which costume impacts our lives as a creative connective medium. We are interested in hearing about the multiple, maybe surprising linkages and alliances costumes facilitate. These connections, enabled by costume, create and sustain networks of experiences, practices and ideas.
We will hear from costume practitioners, researchers, and artists working with costume, whether as a performance, installation, community bridge, as research, as a way of thinking, making, or communicating.
Event info:
▪ The event language is English.
▪ The conference convenors reserve the right to suggest a different format depending on submission content and program needs.
▪ The exact length of your presentation will be decided after the confirmation of your participation (based on the final program).
▪ All delegates attending this 3-day event will need to pay a small registration fee, which will pay for the website development and exhibition hosting amongst other costs.
▪ The event will run over the three host countries' time zones in a rolling fashion, which should ensure there are many options to attend sessions at a time that suits you.
Critical Costume 2022 Convenors
Dr Rosane Muniz, Grafias da Cena Brasil
Dr Suzanne Osmond, National Institute Dramatic Arts, Australia
Professor Sofia Pantouvaki, Aalto University, Finland
Dr Madeline Taylor, Queensland University of Technology, Australia
Key dates
● Early bird registration: 15 August – 30 September 2022
● Regular registration: 1 October – 15 November 2022
● Preliminary programme released: October 2022
● Event dates: 17 – 20 November 2022
Questions about the event should be directed to: criticalcostume2022@gmail.com