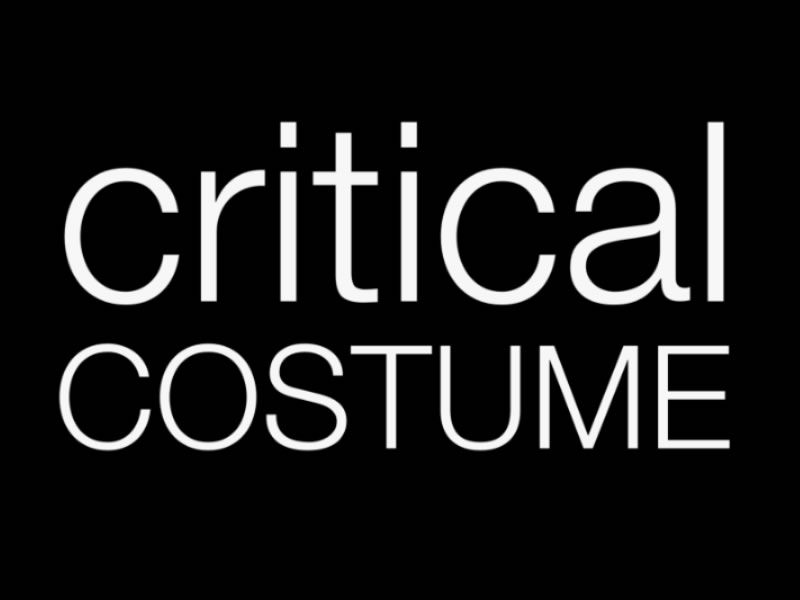 Critical Costume 2023, An International Conference and Installation: 6th-9th March 2024
Established in 2013, Critical Costume is an international research network focused on the promotion of new costume scholarship and practice (see: https://www.criticalcostume.com/).
The network is led by the following partners:
Queensland University of Technology and National Institute Dramatic Arts (Australia)

Aalto University (Finland)

Grafias da Cena Brasil Association (Brazil)
Theme:      Got Fiction? Whatever the Medium: Costume is the Character 
Location:  Los Angeles, USA
                  David Copley C. Copley Center for the Study of Costume Design
                  UCLA School of Theater, Film & Television 
Deadline for applications: 5th September 2023
The Critical Costume 2024 Call for Participation seeks original research exploring the role and significance of costume design in motion pictures, television, and live performance, as well as examining the interrelationship between these different areas of costume practice and research. The field of costume design is multifaceted and draws on expertise from diverse disciplines such as theater, film studies, fashion, literature, art, and history. In the costume design and production process, there are various media used to convey the designs, which inevitably influence the outcome and its reception. Whether worn, viewed on stage, the large or small screen, or as objects in a museum, the association and sensations that costume evokes shifts with each format and dramatic context. Theater, cinema and television audiences, costume exhibition attendees, gamers and cosplayers bring their personal expectations when encountering costume.
We invite submissions from scholars and practitioners that examine the intelligence, artistry, skill, and technical knowledge of costume designers, with special focus on its impact on popular culture and on the intersections between formats and media. Since the beginning of motion pictures and television costume designers have contributed to powerful cinema storytelling. With this conference we encourage delegates to reflect upon the design, the production process – including creative collaborations with filmmakers and actors, and the significance of costume design to the shaping of our identity, gender, politics, memory, and every aspect of international culture.
The Critical Costume 2024 event will be hosted in Los Angeles, on the 2024 Academy Awards weekend. Conference attendees will meet the 2024 Oscar nominated costume designers during the annual 'Sketch to Screen' panel at the UCLA David C. Copley Center for Costume Design on the day following the conference, Saturday, March 9th. This year, Critical Costume 2024 will be film and television centric, although submissions related to live performance will not be excluded.
Possible topics of interest may include, but are not restricted to, the following:
the history and evolution of costume design in motion pictures from the silent era, the expansion of television, and live performance

the relationship between costume design and other elements of production (such as cinematography, production design, projection, lighting design and visual effects)

genre: costume design as a tool to convey and actualize character; style, scale and detail

costumes that transcend screen and stage: the synergy between costume and popular culture; cosplay, and its influence on international fashion trends

gender and wage equity, the question of royalties/IP, costume design as a marketing tool, and post-release merchandising of costume design

new horizons in the field: including, digital/VFX, AI, 3D printing, material practice, potentials and challenges

costume and performance, an actor's transformation

the career and influence of a motion picture or television costume designer
We welcome an interdisciplinary approach and encourage contributors to expand the field with relevant scholarship. Our goal is to showcase the importance of costume design as integral to performance and to advance our understanding of its role in shaping our shared cultural heritage.
Established in 2013, Critical Costume is an international research network focused on the presentation of new costume scholarship and practice (see: https://www.criticalcostume.com/). Critical Costume 2024 is the sixth conference within the Critical Costume research platform.
Submission formats:
Critical Costume 2024 includes the following presentation formats:
Academic papers on current research (15-20 minutes);

Flash Talks – short presentations reporting on practice (8-10 minutes);

A digital projection installation of artistic work and practice-based research.
In that regard, we invite all interested parties to submit their proposals stating which presentation format you wish to be considered for:
Academic paper presentation(title and 300-word abstract)
Flash Talk presentations(title and 200-word summary)
Artistic work for the installation(title and 200-word description)
Note: You are welcome to submit applications for both the installation and the conference. All submissions must indicate their relation to the topic of the conference. All submissions to the conference will be double-blind peer reviewed. Submissions to the installation will be peer reviewed and the final exhibit will be curated. Accepted contributions will be considered for publication following the model established at previous Critical Costume conferences: for examples, see: https://www.criticalcostume.com/publications.html
How to submit:
Please send:
presentation title or installation title;

200- or 300-word abstract depending on format;

a 50-word biography;

2 images (for project-based presentations and/or the installation);

and an indication of the preferred format (paper, Flash Talk, or exhibition)
by the 5th September 2023 to the following email address: criticalcostume2024@gmail.com
Event info:
The event language is English.

The conference convenors reserve the right to suggest a different format depending on submission content and program requirements.

The exact length of every presentation will be decided after the confirmation of participation (based on the final program).

All presenters and exhibitors must register for the ev
Key dates
Deadline for the submission of proposals: 5 September 2023

Notification of acceptance: 1 November 2023

Confirmation of participation (speakers/presenters): 1 December 2023

Announcement (speakers/presenters): 6 December 2023

Preliminary programme released: 10 January 2024

Early bird registration deadline: 15 January 2024

Regular registration deadline: 15 February 2024

Event dates: 6-8 March 2024 (conference) & 9 March 2024 (Sketch to Screen panel)
Questions about the event should be directed to: criticalcostume2024@gmail.com
UCLA welcomes all individuals, without regard to race, sex, sexual orientation, gender identity, religion, national origin or disabilities. Our diversity statement can be found here:
https://diversity.universityofcalifornia.edu/policies-guidelines/
Critical Costume 2024 Convenor
Deborah Nadoolman Landis, PhD; Distinguished Professor;
Founding Director and Chair, The David C. Copley Center for Costume Design;
UCLA School of Theater, Film and Television