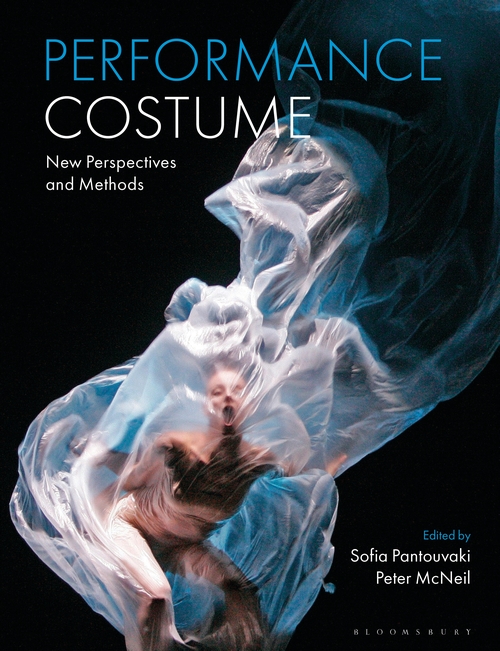 Performance Costume: New Perspectives and Methods
About Performance Costume
Costume is an active agent for performance-making; it is a material object that embodies ideas shaped through collaborative creative work. A new focus in recent years on research in the area of costume has connected this practice in vital and new ways with theories of the body and embodiment, design practices, artistic and other forms of collaboration. Costume, like fashion and dress, is now viewed as an area of dynamic social significance and not simply as passive reflector of a pre-conceived social state or practice. This book offers new approaches to the study of costume, as well as fresh insights into the better-understood frames of historical, theoretical, practice-based and archival research into costume for performance.
This anthology draws on the experience of a global group of established researchers as well as emerging voices. Below is a list of just some of the things it achieves:
1. Introduces diverse perspectives, innovative new research methods and approaches for researching design and the costumed body in performance.
2. Contributes towards a new understanding of how costume actually 'performs' in time and space.
3. Offers new insights into existing practices, as well as creating a space of connection between practitioners and researchers from design, the humanities and social sciences.
Table of contents:
List of Figures
Notes on Contributors
Foreword – Maija Pekkanen (Costume Designer, Finland)
Foreword – Simona Rybáková (Costume Designer, Czech Republic)
Acknowledgements
Introduction: Activating Costume: A New Approach to Costume for Performance – Sofia Pantouvaki (Aalto University, Finland) and Peter McNeil (University of Technology Sydney, Australia)
Section 1: Interpreting and Curating Costume

1.1 Real or Virtual?: Studying Historical Costume Drawings and Sketches – Margaret Mitchell (University of the Incarnate Word in San Antonio, Texas, USA)
1.2 Cooking: Studying Film Costume Design – Drake Stutesman (Barrymore Film Center, Fort Lee, USA)
1.3 Displaying Stage Costumes: Exhibitions at the National Centre for Stage Costume, France – Delphine Pinasa (Centre National de Costume de Scène, France)
Snapshots
1.4. Cross Cultural Costume Research: Beijing Opera Costumes – Alexandra B. Bonds (University of Oregon, USA)
1.5. Reading Maltese Carnival Costumes – Vicki Ann Cremona (University of Malta)
1.6. Curating Costume – Reflection – Aoife Monks (Queen Mary, University of London, UK)
Section 2: Personalities in Costume

2.1. Costume Centre Stage: Re-Membering Ellen Terry (1847-1928) – Veronica Isaac (university lecturer and freelance consultant, UK)
2.2. 'On and Off the Stage': Costume, Dress, and Locating the Actor-Manager's Identity, 1870-1900 – Helen Margaret Walter (Plymouth University and the University for the Creative Arts, Epsom, UK)
2.3. Extravagance, Expense and Notoriety: Gaby Deslys' French Costumes in America, 1911-14 – Emily Brayshaw (University of Technology Sydney (UTS), Australia)
Snapshots
2.4. A Foreign Affair On and Off Screen – Christina M. Johnson (FIDM Museum at the Fashion Institute of Design & Merchandising, Los Angeles, USA)
2.5. Recording Costume Design in the Theatre and Performance Collections at the V&A: Vivien Leigh and Oliver Messel – Keith Lodwick (Victoria and Albert Museum, UK)

Section 3: Costume Voices, Costume Histories
3.1. The First Premiere and Other Stories: Towards a History of the Costume Design Profession in Finland – Joanna Weckman (independent post-doctoral costume researcher, exhibition curator, lecturer and costume designer, Finland)
3.2. Spinning Yarns: Locating, Learning and Listening in the Social World of Popular Hindi Film Costume Production – Clare M. Wilkinson (Washington State University, USA)
Snapshots
3.3. Hollywood Costume: A Journey to Curation – Deborah Nadoolman Landis (UCLA David C. Copley Center for Costume Design, USA)
3.4. 'The Getting of Wisdom': Learning from Anna Senior – Jennifer Gall (National Film and Sound Archive of
Australia)
3.5. Design for TV: Costume and Contemporary Clothing – Chrisi Karvonides-Dushenko (costume designer in theatre, film and television, USA)
Section 4: Costume and the Body
4.1. The Body as the Matter of Costume: a Phenomenological Practice – Donatella Barbieri (London College of Fashion, University of the Arts London, UK)
4.2. The Body as Site: Interdisciplinary Approaches to Dress in/as Performance – Jessica Bugg (London College of
Fashion, University of the Arts London, UK)
4.3. 'Aware Wearing' – a Somatic Costume Design Methodology for Performance – Sally E. Dean (interdisciplinary choreographer, performer, teacher and somatic practitioner, Europe, Asia and USA)
Snapshots
4.4. Costuming the Foot: a Designer/Performer's Personal Artistic Methods – Alexandra Murray-Leslie (artist, researcher, performer and co-founder of the international art collective Chicks on Speed, Australia)
4.5. Costume and the Modernist Body: Fashioning August Strindberg – Viveka Kjellmer (University of Gothenburg, Sweden)

Section 5: Costume and its Collaborative Work
5.1. Building Costumes, Building Language in the Costume Workshop – Madeline Taylor (Queensland University
of Technology and University of Melbourne, Australia)
5.2. Fitting Threads: Embodied Conversations in the Costume Design Process – Suzanne Osmond (National Institute of Dramatic Art in Sydney, Australia)
Snapshots
5.3. Haptic Descriptions – Costume Design by Gillian Gallow and April Viczko – Natalie Rewa (Queen's University,
Canada)
5.4. The Costume Designer´s 'Golden List' of Competence – Christina Lindgren (Oslo National Academy of the Arts (KHiO), Norway)
Section 6: Costume and Social Impact
6.1. Exploring Rossini's Berta: Young Audiences and the Agency of Opera Costume – Sofia Pantouvaki (Aalto University, Finland)
6.2. Designing Hospital Clown Costumes: Psychological and Social Benefits for Finnish Children's Healthcare – Merja Väisänen (Aalto University, Finland)
6.3. Costume of Conflict – Mateja Fajt (independent costume designer and researcher, Slovenia)
Snapshots
6.4. From Effect to Affect: the Costumed Body and the Autistic Child – Melissa Trimingham (University of Kent, UK)
6.5. 'Designing Tsunami': Costume Evolution from Documentary to Surrealist – Michiko Kitayama Skinner (University of Miami, USA)
6.6. The Collaborative Process of Costume Creation: Travesties in São Paulo – Fausto Viana (São Paulo University (USP), Brazil)
Reviews:
"A truly pioneering exploration and discovery of new fields of costume study, Performance Costume is the first of its kind. It broadens costume study from within the theatre to consider the design process and its practices and, significantly, aspects of wearing and social significance, looking at TV, cinema, schools, hospitals and the street, alongside theatre. Terrifically stimulating and important …" –  Christopher Baugh, University of Leeds, UK
"An invaluable resource that is authoritative, international in scope, timely, and riveting. It is unique in its breadth of material, methodologies, and combination of contributions by academic and theatre practitioners in articles and 'snapshots'." –  Patricia Lennox, New York University, USA