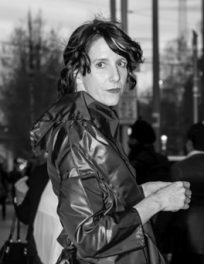 Chantal Kirby
RMIT PhD Student
Research Summary:
Designing luxury: shifting experiences of materials and value through fashion practice
This practice-based PhD is about establishing how through the design of luxury fashion, experiences of material and value are shifted. 
It explores the shift in materials and value in the way they define an experience or a feeling and borrows from the idea of material culture with its material objects providing a lens to better understand the immaterial values rooted in luxury fashion as a way of doing this. Luxury fashion has been analysed as a 'cultural industry' where production and consumption meet each other seeing the making of the materiality of clothes and fashion objects as a doorway to the immaterial horizons of fashion.
It is based in the production of luxury fashion propositions that sit outside of the conventions of the luxury fashion industry to provoke conversations of, in and around it. Collaborations conducted with materials, people and scenarios are core to the practice which explores the creation of experiences in luxury fashion that provoke new ways of thinking for what luxury can do. 
Biography: Chantal Kirby is a fashion designer and academic and is currently a lecturer and Program Manager of the Bachelor of Fashion (Design)(Honours) and Master of Fashion (Design) at RMIT University and is undertaking a practice-based PhD at RMIT exploring how through the design of luxury fashion, experiences of materials and value are shifted. Her practice is collaborative, and projects have included works for performance, theatre, museum and fine art installation.
During early practice (2004 – 2011) she was co-director and designer of the practice MATERIALBYPRODUCT (MBP) with Susan Dimasi. The practice explored the design of systems for the sustainable production of luxury fashion. The design, installation and performance of the work engaged the space of body and site and functioned as fashion with and without the body. MBP received Premiers Design Awards (2006, 2008), Victoria, and was an ITS#6 Finalist (2007), Italy. Exhibitions include PARA-SITE, Dysfashional (2008), MUDAC, Switzerland, Craft Victoria, NGV, Melbourne, UTS, Object Gallery, Sydney, Freemantle Arts Centre, Perth, Barcelona 080, Spain and Pitti Touch! Neozone & Cloudnine, Italy with works acquisitioned by the NGV, Victoria (2004 – 2011).
Recent collaborations include 2019 D&K 'Covers', project led by Dr Ricarda Bigolin and developed in collaboration, performed in Amsterdam and Melbourne, 2018 Passageways: On Fashion's Runway, Kunsthalle, Bern, Switzerland, 'Replica Project' in collaboration with Matthew Linde, 2018 Fashion Colloquium: Searching for the New Luxury, Arnhem, Netherlands, Swatch of Luxury, in collaboration with Dr Ricarda Bigolin RMIT University, and Prof Clemens Thornquist and Ana Lidstrom, Swedish School of Fashion and Textiles, University of Böras.
Supervisors: Ricarda Bigolin, Robyn Healy