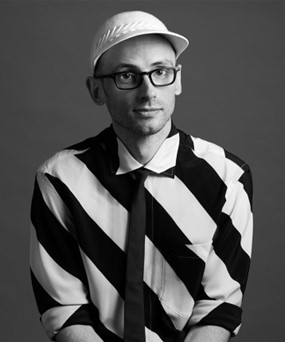 Dinu Bodiciu
PhD Student, London College of Fashion UAL
Research Summary: This practice-led research explores the possibilities for new symbiotic interactions between body and garments/adornments through the mediating potentials of skin. Symbiosis is defined as a way of "living together" of two or more entities (Paracer & Ahmadjian; Margulis; Sagan). This interaction between body and garments/adornments is facilitated through non-invasive body modifications by developing skin composites attached to the human skin. In this research skin composites are exodermal cosmetic silicone-based designed artefacts, some that mimic and/or adorn the skin and are applied on the skin with or without specialized cosmetic glue.
The research approaches the skin as a scaffold for garments/adornments to form as parts of a wearer's body whereby cloth connects to the body through skin composites. This stimulates new design investigations into ways of fashioning the body through the integration of body and cloth. The research investigates whether this process alters perceptions of dressing and being dressed and contributes to new embodied experiences to the wearer in the process of fashioning their body. As dress can be understood as both part of, and separate from the body (Entwistle 2001), this research will explore how dress can function in a more embodied relationship with the body, aiming to respond to the main research question: "In what ways could an integrated body and garment symbiosis be achieved and how does this affect the wearer's understanding of dress and dressing?"
Biography: Dinu Bodiciu is a Romanian-born designer that graduated his MA in Fashion Design and Technology at London College of Fashion, where he is currently a Part-Time research student in  the second year. As a fresh graduated of the Masters, in 2011 his clothing has been worn by Lady Gaga and later, he designed hats for the Hunger Games 3 & 4 movies or for the Chicks on Speed.
His practice investigates novel ways of interaction between body and garments that aim to produce new embodied experiences for the wearer. Some of the projects that Dinu has developed in this direction are Shadowear or Dress Action. Shadowear is a method of designing that takes the flatness of one's shadow instead of the tri-dimensional body as subject to be dressed. The final outcome challenges the fashion conventions, exploring new approaches to the body. Dress Action method is based on a power-mesh skin-tight bodysuit which features snap-buttons strategically placed on the suit's surface. Dressing the body becomes a simple activity of draping materials on the suit (already dressed by a body) which allows infinite possibilities of placements, configurations and combinations without using any stitching.
www.dinubodiciu.com
Supervisors: Dr Jessica Bugg, Dr Michèle Danjoux, Prof. Felicity Colman